Ya Hala
Rooftop Terrace Dining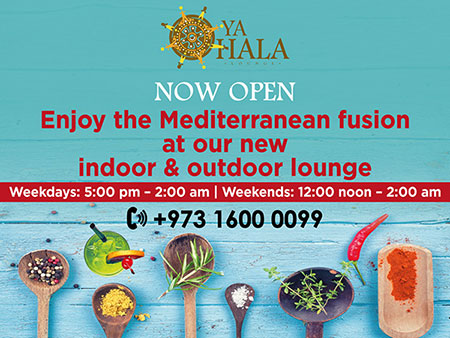 Fans of Mediterranean cuisine will be delighted as brand-new restaurant "Ya Hala" has opened its doors at the rooftop terrace of Ramada Hotel & Suites Amwaj Islands.
The restaurant and lounge has a menu that boasts influences from the Middle East, modern Southern Europe to the Levant, all served up in a cozy and welcoming setting with a splendid view of Amwaj Marina.
The food is flavourful and expertly prepared, using high-quality ingredients. It serves tapas plates, pastas, sandwiches, excellent choices of main courses that's worth splashing out for and mouthwatering desserts complemented by a delicious beverage from an extensive drinks selection.
The restaurant has also live music and
open from 5pm till 2am for weekdays and from 12 noon till 2am on weekends.
Also check out
BBQ Night
every Thursday at the roof top lounge from 7:30 pm to midnight.
Ya Hala makes it the perfect place for get-together with friends and colleagues after work or as an evening venue for the perfect celebration.
For more information, call +973 1600 0099.
Like us on
Facebook
Follow us on
Instagram